For over 20 years the Rainbow Family and Judges have seen some of the cutest faces, sweetest smiles and funniest personalities grace its stage. The one thing they all have in common is the special something that has been described by some as "Star Quality!"
At our 2018 National Finals, Rainbow yet again awarded some darling performers that entertained and stole the crowd's hearts!
Meet Makayla Lecour from TIFFANY & CO. DANCE STUDIO. She performed her adorable solo to "Moana" at our Panama City, Florida Finals. This princess was lucky enough to receive our exclusive Finals Unicorn Mascot! <3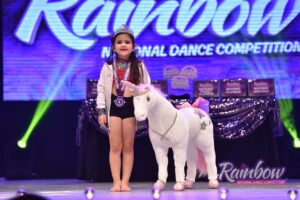 Our Pigeon Forge, TN Mascot winner is Mr. Sawyer Harshman from DANCE 360 ORLANDO. His performance to "Bad" thoroughly entertained the judges with personality plus!
Congratulations to all our 2018 Mascot winners that captivated the crowds throughout the entire Rainbow season! We are looking forward to meeting more charming characters in 2019!!!